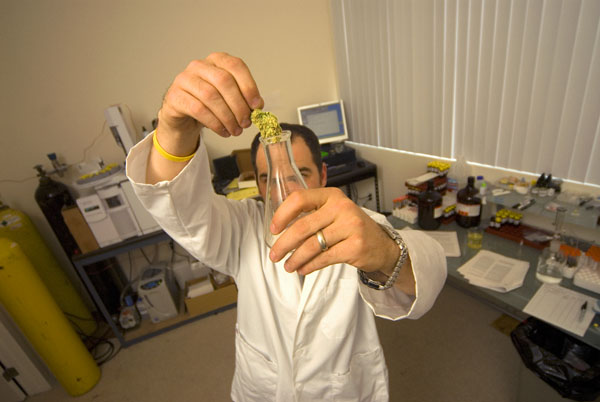 Marijuana testing is a growing industry across the United States. The majority of this growth is due to the fact that marijuana has been legalized for medicinal and recreational use, or decriminalized in countless states, cities, and counties across the country. As marijuana becomes more accessible and legal, the demand for understanding more about the plant has grown. Cannabis testing allows doctors, patients, consumers, and businesses to better understand the different compounds active in particular strains and marijuana products. This information enables them to better understand why a particular plant is more effective at alleviating certain medical issues, why people feel a certain way when they consume a particular plant, and which plants and products are safe for use and which are not. All of this information enables doctors, patients, consumers, and businesses to make more educated decisions about which plants they are consuming and why they are consuming them. In other words, cannabis testing provides valuable information about particular plants and products, so their use can be more targeted at the individuals they will actually help. There are countless different types of testing related to cannabis testing, from potency testing to pesticide testing. One type of testing that is incredibly important is microbial testing.
Microorganisms are found on all plants and agricultural crops. It just so happens that the conditions which are the most effective for growing marijuana plants are also the conditions that are best for potentially harmful bacteria and fungus. This means that a person could think they are growing some incredible marijuana plants, yet those plants could be infected with bacteria and fungus that could cause potentially serious health risks to a consumer of the plant down the road. If a particular plant or marijuana product is contaminated with a bacteria or fungus, such as mold or yeast, then consumption of that plant or product could cause serious problems for a patient or consumer.
In order to make sure that plants or products are safe for consumption, they must be properly screened and tested for bacteria or fungus. In other words, microbial testing is a key aspect of any marijuana testing program. Every single plant or product that is put out on the market must be tested properly before it is sold to patients or consumers. If it is not, then a doctor could be prescribing a marijuana product to a consumer not knowing that the product is going to cause more problems than it is going to fix.
To make sure that the plants or products on the market are safe, every single one should be subjected to microbial testing. In order to make sure that this is done properly, it must be done by a laboratory that knows what they are doing and what to look for. One such marijuana strain company is Cannlabs. They are dedicated to testing marijuana not only for its potency, but also for the presence of microorganisms. They are dedicated to ensuring that every marijuana plant and product on the market is safe for consumption.